ROTA-TAB MSP SERIES ROTARY TABLET PRESS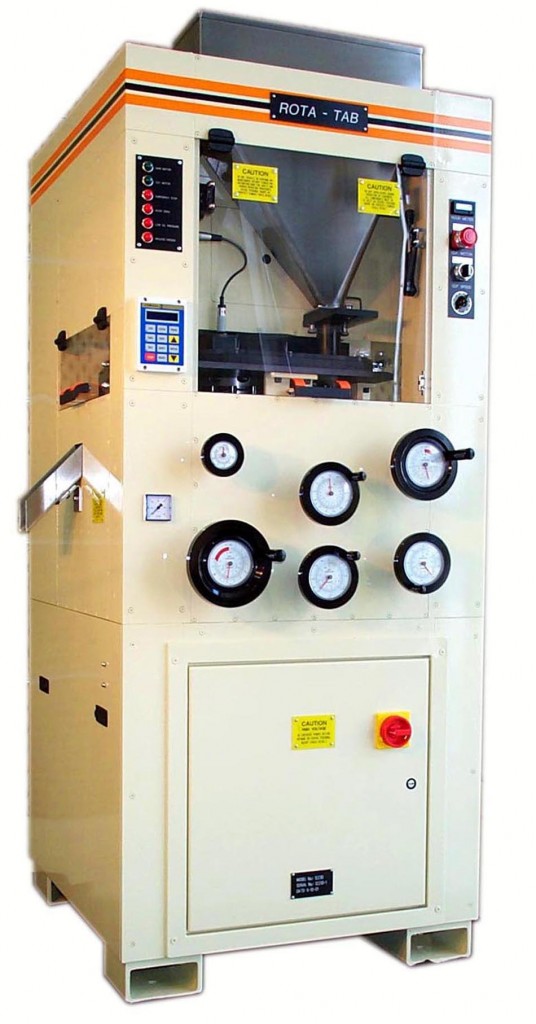 The ROTA-TAB MSP Series is a manually controlled, single-sided, pre-compression press using IPT B, BB, and D-type tooling. Centrally located handwheel adjustments and control panels allows ease of operation. An AC inverter drive provides push-button speed adjustments, with a programmable locked-out jog speed and tablets-per-minute speed.
This press is available in an upgrade with stainless steal panels, anodizing, plating, and coating. Also available is automatic weight control and force-monitoring tablet control systems.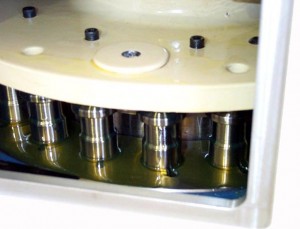 The upper and lower punch compression compartments on the ROTA-TAB MSP Series are totally sealed, preventing any powder or other contaminates from entering. This also allows all moving parts to be lubricated by a continuous lubricating system.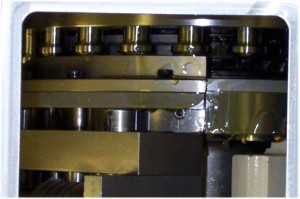 The oil punch seals
allows punches to receive a fresh dose of oil after each stroke, eliminating sticking. Imagine the extra life you'll receive from your cams, turret punch bores and all other associated parts,
plus
you'll reduce the time you spend cleaning as compared with other presses.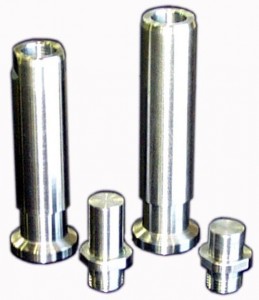 During tooling changes
on the
ROTA-TAB MSP Series
(since the punch barrels and head are saturated with oil), you can choose to use upper and lower punches designed with replaceable tips.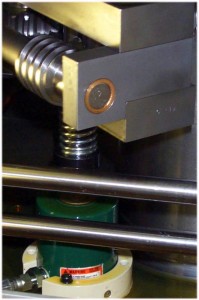 The design of the punch and the press-with a remote hydraulic die removal and installation system – allows you to change out the punch tips and dies without removing the upper and lower punches from the turret. This feature eliminates any oil mess and the use of a hammer to drive dies in and out.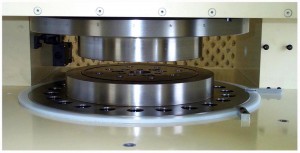 Since the continuously lubricated upper and lower punch bores not will wear as fast as the die table surface (especially with abrasice products), the die table on the ROTA-TAB MSP Series can be removed without having to remove the upper and lower punch turret sections from the machine. This gives you the opportunity to change out a die table in 30 minutes or less!

The die table is also interchangeable. You can order a new one and install it at your plant without the cost and downtime of sending your turret out to have the die table custom fitted.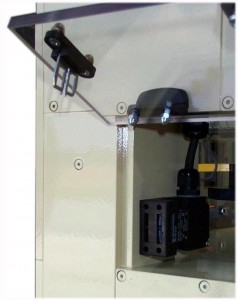 Comprehensive machine enclosures
and tamper-proof safety interlock switches are installed on all quick-acess guard doors, assuring the
ROTA-TAB MSP Series
will not operate while the doors are open.
ROTA-TAB MSP Series
SPECIFICATIONS
Model Number
1223D
828B
835BB
Number of Stations
23
28
35
Tooling Type
D
B
BB
Maximum Tablet Diameter Solid Tooling
.937
.687
.500
Maximum Tablet Diameter inserted Tooling
.812
.562
.500
Main Pressure
12 Tons
8 Tons
8 Tons
Pre-compression Pressure
5 Tons
5 Tons
5 Tons
Maximum Powder Fill Depth
.812
.812
.812
Maximum Tablet Thickness
.437
.437
.437
Tablets Per Minute
1950
2800
3500
Main Motor 230/460 Volts
10 HP
7.5 HP
5 HP
Machine Height
73″
73″
73″
Machine Floor Space
35″x33″
35″x33″
35″x33″
Machine Weight
4240 lbs
4240 lbs
4240 lbs
The ROTA-TAB is American-engineered and "Made in the U.S.A." – assuring premium-quality parts and availability.